Portland Memory Garden wins national award

September 27, 2011
Story by Sophia Kecskes
Did you know? Portland is home to one of only 8 memory gardens in the country, and one of only 2 built on public land.
---
The Portland Memory Garden, next to Ed Benedict Park at SE Powell and 104th, was designed to meet the special needs of those with memory disorders like Alzheimer's, and to provide respite for their caregivers.
We're proud to share that the garden has received the 2011 Therapeutic Garden Design Award from the American Horticultural Therapy Association (AHTA). The annual award recognizes gardens that are leading the field of therapeutic design and activity programming.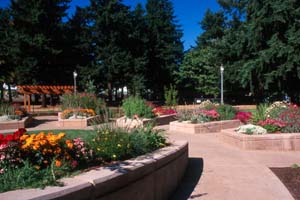 The Memory Garden features totally accessible circular pathway and visual landmarks, as well as four seasons of plants and flowers in raised beds chosen to stimulate the senses. It's away from the hustle and bustle of other park activity and traffic noise, offering an oasis of quiet. The garden also hosts regular activities led by registered horticultural therapists and geared toward those with memory disorders.
Dedicated in 2002, the garden is maintained mostly by volunteers coordinated jointly by PP&R and the Friends of Portland Memory Garden, a non-profit formed in 2010.
Congratulations to our staff at PP&R and the Friends, whose stewardship of this unique resource ensures that it will continue to provide a safe space for those living with memory loss.